Release time:2013-09-24 10:09:18
Source:http://en.oilexpo.com.cn
clicks times:
summary:  Whether the exhibition is successful or not depends on the profits and benefits the exhibitors get, but the
10th International High-end Health Edible Oil and Olive Oil Expo
----Invite more professional visitors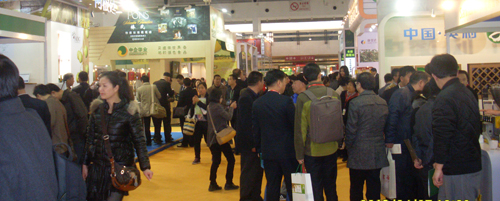 Whether the exhibition is successful or not depends on the profits and benefits the exhibitors get, but the profits mainly depends on the quality and quantity of the visitors. Recently, the writers visited some food exhibitions in Beijing. During visiting, many exhibitors all said " the professional visitors who come for products and orders can be count on the fingers.
As we all know, the different exhibition needs different visitor community, such as, "Commodity Distribution fair" faces usual consumers, mainly for sale; "Professional order fair", "trade fair" mainly faces traders, for trade and order; "Negotiation meeting, investment fair" mainly faces the cooperator of project and investment.
In order to realize the importance of the visitors, we interview Ms Chen, who is responsible for organizing the "10th International High-end Health Edible Oil and Olive Oil Expo" at Beijing·China International Exhibition Center on Apr.8-Apr.10, 2014. She told us "The work for inviting the professional visitors is vital. It concerns the vitality of life and decides the success and failure of exhibition. As the organizing committee, we must know the importance of professional visitors".
In order to to build a communication platform better and serve for the domestic and foreign exhibitors, the organizing committee establishes a professional customer service team and invites professional visitors and purchasers. At the same time, we organize a "Purchaser Meeting" in order to contribute to the exhibitors and buyers to complete the order. The sellers and buyers both sides could make one-to-one and face-to-face business negotiation, trying to make the oil companies get more projects and business opportunities.
9th International High-end Health Edible Oil and Olive Oil Expo, as a professional exhibition and trade activity, not only let the exhibitors get satisfied, but reach the requirement of the visitors, furthermore, increase the importance of the exhibition for the customers.
★ Organizing Committee:Beijing Shibowei International Exposition Co., Ltd
Address: Room 904, Cell 4, Building 1, No 69 (Fortune street), Chao Yang Road, Chao Yang District, Beijing, China, 100123
Tel: 0086+10-85785006/7/8-621
E--mail: sbwfair@hotmail.com